Everyone have some favorites and out of all the seasons, fall is my favorite. You can carve pumpkins, make your Halloween costumes or celebrate Diwali with loved ones. The transition from summer to winter is something I just love. Fall is the most beautiful season but it's not just about the beauty of nature but there are many fun things to do. I made my very own fall bucket list and I am glad to share it with you.
Visit Pumpkin Patch: Till last year I didn't know about pumpkin patch. My mom dad visited us so I was looking for fun stuff to do in October and that's how I came to know about Pumpkin patch. Last year it was my baby's first visit to a farm. She was not able to do much, but we got some lovely pictures. We picked some pumpkins for decoration. This year we had double the fun because Baby J is now able to walk and run all around. She was able to pick little pumpkins too. The farm we visited had petting zoo and hay rides too. This is a fun activity for kids and parents.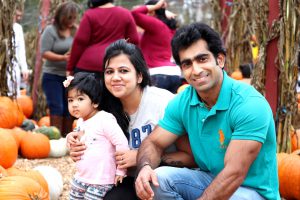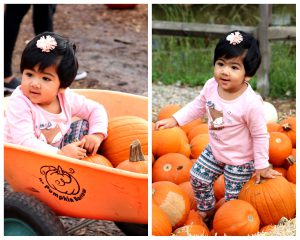 Drink Apple Cider: Baby J tried apple cider for the first time and she liked it so much that she didn't bother me to help her drink 🙂 . Apple Cider is available at our grocery stores too, but it's nothing as compared to the apple cider sold at the farms in fall. I was waiting for our visit to a farm and buy it. I was so happy to check this in my bucket list.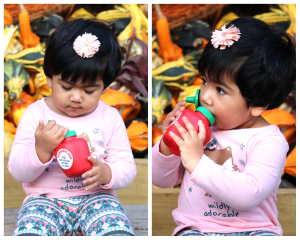 Get lost in corn: I wanted to do either a corn maze or corn pit fun this time. (Yes we skipped it last year). A large Pit, full of corn and deep enough to jump inside is a must try. Even if you are not a corn fan, you should give it a try. How can you miss getting wonderful picture of handling your kid swimming inside the corn pool? HA! I just love this pic.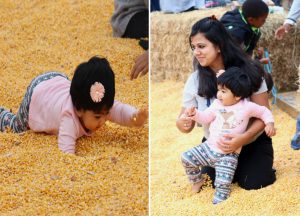 Jump in pile of leaves: What is fall without leaves? So many leaves lying on the ground and how can you not jump into that. Baby J was sitting, jumping and running in leaves and we were enjoying the sounds coming when her little feet crushed the leaves. It is little messy but its worth it when you see the excitement in your kid's eyes. You get so many lovely pics too.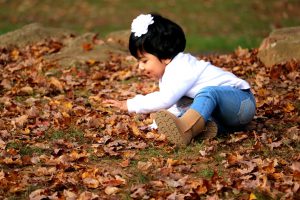 DIY something fall related (I did Infinity scarf): Fall decorations, Pumpkin decorations, outfit for fall theme or just anything. I decided to try making infinity scarf for my girl. It's really simple and fast. Just take the fabric and cut it according to the length you want and stitch to make a loop. I also tried making fall print hair bows for my baby. They too turned out beautiful. Next year I am going to ask Baby J to suggest what she wants me to try 🙂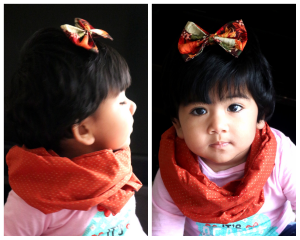 Fall foliage drive: I don't like driving, but I love to go on a drive to view fall beauty. Good music, good company and beautiful scenery is a perfect combination for boosting your mood. Make sure you are going on fall foliage drive at the perfect time to see maximum colors. Last year we went to New Hampshire for enjoying fall beauty but this year we visited our nearby state park.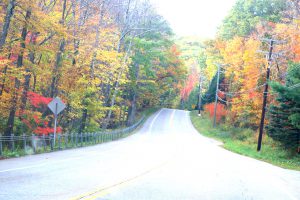 Try something pumpkin: By something I mean you can either try some recipe or you can buy something ready to eat/drink. But you must try the pumpkin flavored awesome cuisines available especially in fall 🙂 . My list had one and only one thing and that is from my favorite place Starbucks. The famous pumpkin spice latte.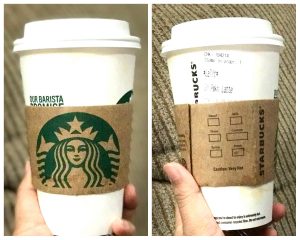 Host or attend Halloween Party: Halloween parties are fun right? Everyone gets creative and decide their costumes. I got to attend a Halloween party with amazing food and people. Made some props for our photographs too. My family costume theme was Strabucks this year. Lalit and I were Baristas and my baby girl was the cutest cappuccino ever and yes this whole costume was a DIY too.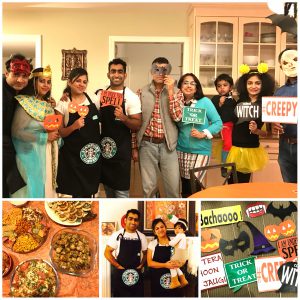 This was my fall bucket list and it just made my whole season amazingly happening. Except the above mentioned things I did fall shopping and attended Oktoberfest (which was not planned). I have already started thinking of few things which I will be adding in my next year's list.
What was your bucket list? Did you finish it yet? What was your favorite thing to do in fall season? I would love to hear that in comments below. Thanks for reading.
SaveSave
SaveSave
SaveSave
SaveSave