No matter how much your guy says that Father Day is just another hallmark day, they expect us to make it special for them. Especially when the kids are so young that they can't even wish them. So when my girl was born, mother's day came first and my husband planned a perfect day for me. It was all about giving me some 'ME' time. First I thought I should do something similar for him like he hanging out with his friends, book a movie for him or something which can give him a break from being a father.
But somewhere, the wife inside me won over the mom and I felt like I loved spending ME time on mother's day but it would be great to spend Fathers day together as a family. After all, a father should be with his child on Father Day. With these thoughts I started planning for his First Fathers day celebration and here is how we celebrated it:
Surprise Post: A week before Father Day, I made these letters D-A-D out of cereal boxes, white paper and colors at home. I clicked some pictures of my girl holding these letters and I posted it on my fb page tagging him. It was a surprise for him because he didn't see that coming. I am sure his daddy chest had been puffed that day! All thanks to social media that you can show off all your efforts just by few clicks 🙂 . I could have framed these pics too but I planned something else to frame so left these for just facebook.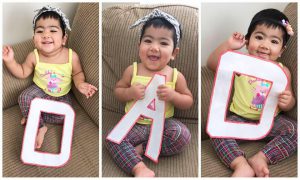 I am planning to make it a tradition and will click her Pics with D-A-D letters every year. At least till the time she listens to me 🙂
Family Lunch: We went for lunch to his favorite restaurant and I made sure he enjoys his meal while I take care of the baby. Doesn't that sound like a perfect lunch?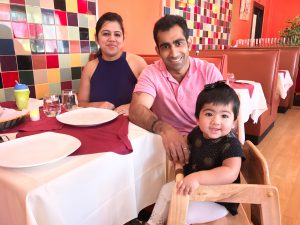 The Gift: If you are following my blogs, you must know that I love adding personalized effects to things wherever possible. Father's day comes every year, but first father's day comes only once. So I made this gift with baby J's hand prints on it and cannot be done again as those tiny hands are grown a little. Her tiny little hands on a paper with a perfect quote.
I framed this and she gave it to him at night. See her eyes all sparkly and happy after a perfect day with her dad. I think he liked his gift because next day he took it to his office and kept it on his desk.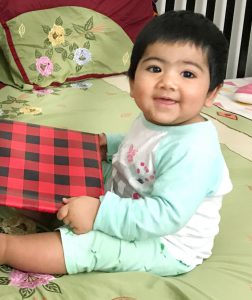 This is how we celebrated our first father's day. It was quite a memorable one for us. We see that moms get most of the credit all the time but a dad like my husband deserves more appreciation than a mom. He helps in cooking, cleaning, feeding the baby, changing the diaper and he do all these like a champ.
This year we ordered a small gift for him online and I made this video of my favorite father daughter duo opening the father's day gift. Another memory to cherish in future.
If you are pregnant or have a baby, plan something for the new daddy. We all are busy, but our little efforts will help us make new memories. Leave a comment and let us know how did you like our first father's day celebration and how are you planning (or planned) your partners first father's day!