Two years back I didn't know what people actually do for Halloween. I was living in India and I just knew that people wear scary costume and they try to look as creepy as possible on this day. But today I can say that I enjoy Halloween as much as I enjoy my favorite childhood festival like Diwali. It's not just about how scary you can look. It's about what you want to be on Halloween. You can showcase your favorite character, any object or a person. This year it's the first Halloween when my daughter will collect her candies by herself. So I wanted to choose a common theme for our family costume and then I decided to go with Starbucks Family Costume Idea. After all a family that dress up together, stays together 🙂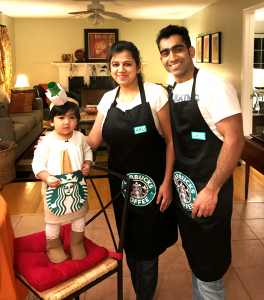 My husband and I, we both love starbucks and finalizing this theme was easy. If you are reading my previous blogs then you must know that I am a bigggg supporter of DIY.  I try to do things myself and if I fail then readymade options are always there. You can check few more DIY baby looks for Halloween done by me . So this time it's about DIY Starbucks family costume and the best part of this costume is this lovely coffee costume.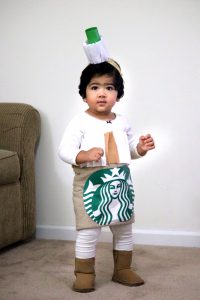 This costume is very easy to make. Me and my husband are baristas and my daughter is dressed as Cappuccino.  Kids look cute no matter what they wear but this is not the case with Mom dads. The Starbucks theme is kind of easy for us because all we have to do is wear our Starbucks Aprons. The main attraction is obviously your coffee. I always loved drinking cappuccinos but this one is too cute to drink.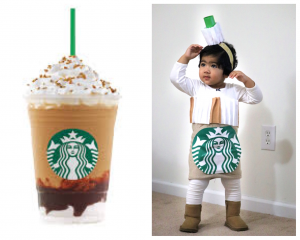 Things you need for making this costume are:
White and brown felt (for whip cream in hairband and on top of costume)
Elastic (for headband)
Brown cloth for coffee.
Starbucks logos (2 for aprons and one for coffee)
Cardboard or toilet paper cardboard roll for making green straw in headband.
Green paint for painting the straw
Hot Glue Gun for sticking things together
black Aprons
I made this costume in around 3 hours and it came out as I wanted it to be. Though I made the back of the coffee cup too where you select your shots, cream etc options, but that didn't fit perfectly with the complete costume so I left it.Next year baby J might have her favorites, so I need to keep her choices in mind but this year I was able to do it my way. All the effort seems worth when you look back in time and cherish those moments.
Doesn't it look fun? Lovely memories to cherish after few years. What do you do on Halloween? You go with a common theme for family or you all have individual choice? Have you ever tried any DIY look for your baby? Let's chat and let me know more fun ideas to try next year.