If you have a girl in house, you know how important it is to have matching hair accessories. No one ever said 'I have enough bows' 😉 Baby J had wonderful hairs when she was born so I knew I am going to buy lots of cute hair accessories.  I am always in search for nice hairbands, bows, ribbons and clips for her. Same color but different styles or different colors in same style, you cannot stop yourself from buying it. For my blog's DIY section I wanted to try something new this time and then I realized it's already fall and I don't have nice fall print bows for baby J. This time instead of searching for the bows, I decided to do it myself.
You can make bows with your choice of colors, prints and you don't have to pay too much price for that.
When you buy bows in retail, you see the crazy prices (even on walmart 😉 ) and if you want to explore some boutiques you can expect double the prices. Making bows at home is not going to cost you much. Very less fabric and so many bows. Isn't it great? So let's make some beautiful bows.
Materials:
Fabric
Fabric Glue
Hot Glue gun
Hair clip
Scissor
Step by Step Guide:
Begin by cutting the fabric. You can cut it according to the size of bow you want. For smaller bows cut around half of the size of an A4 sheet. For bigger bows cut it equal to the size of an A4 sheet.
Fold the raw edges of fabric (only for the side with longer length )to give it a perfect look and stick it using fabric glue.
Then Fold the fabric half on the longer side and stick it using fabric glue.
Apply glue on both the corner (with shorter length) .
Fold one corner to the center of the fabric and once done fold the remaining corner right above the previous one.at this step you see there are no raw edges of the fabric and its perfectly folded in the size for which we want to make our bow.
Now cut one small piece of cloth(1 in below image) to tie the center.Hold the fabric in bow like shape (2 in below image) and  wrap the small piece in the center to hold the bow shape(3 in below image) .Make sure you stick it with fabric glue or you can use hot glue gun too. Remember this is the piece which is going to keep your bow in proper shape.
Use hot glue gun and attach the hair clip at the back.
Your handmade bows are ready.
For the fall season I made few extra bows with beautiful fall prints.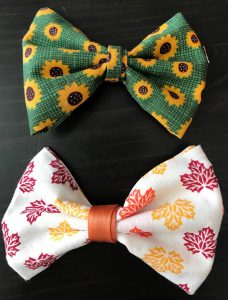 I think it turned out beautiful and I am going to try some more in future. Have you ever tried making bows at home? If not, do give it a try. It's super easy and fast to make. You surely will save some bucks and you will have lots of bows for your girl. If you like the idea of making bows at home then shares this post with someone you would like to try it. You can share your thoughts in comments below 🙂
SaveSave
SaveSave
SaveSaveSaveSave
SaveSave