With Halloween round the corner, finding the perfect costume can be stressful. Though we have unlimited options for buying the pre-made costumes at local stores but aren't they too expensive? Especially for babies and toddlers, it's just a matter of 2-3 hours and then they are done with it. All we want is one good picture of them in the lovely costume. I think DIY is best for getting baby costumes done. Let's see few easy to make DIY Halloween costumes for your little one.
Little Chef or Cook Costume: My baby is 5 months old in this pic. For this look you just need to focus on making the chef hat. This is made from paper and tape. There are 100s of videos on YouTube for this. For chef coat, I used one old shrug and paired it with jeans. For boots I wanted to keep it little girlish. Then use the small utensils from your kitchen and you are good to go.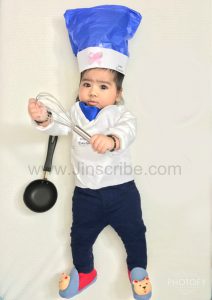 Super Hero Costume: The mask is made of paper and you can print bat man logo. For the cape, I used one stole/dupatta and tied it to the shoulders of black onesie. You can use this idea for any super hero you want. Just print the logo of your favorite super hero and get the matching cape and mask. Isn't she the cutest super heroine 😉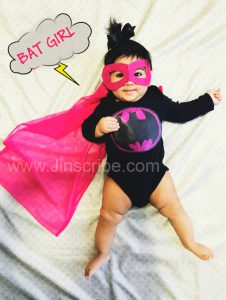 Mailman / Mailwoman Costume: For this look, you need one cap, one bag, few mails and printouts of USPS logo. One small logo for hat, one medium size logo for shirt and one big logo for the bag. For dress any blue shirt with black or brown bottom works fine. For shoes, I choose black. Simple and easy.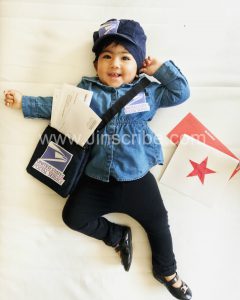 Old lady / Grandma Costume: This is one of my favorites because I love the way my girl is smiling in this. I didn't buy anything special for this look. For Spectacles I used little hard paper and then cut it in this shape. Hairs are done using cotton balls glued together to form a wig. Used Pearl mala over a cardigan and long frock. I sent this picture to her grandparents too. They simply loved it.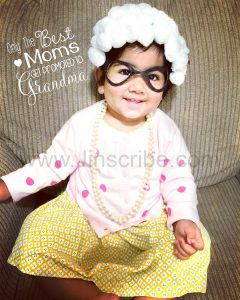 Statue of liberty costume: It was little tough to execute, not because of the costume but clicking the picture was tougher. She just wanted to eat the props but managed somehow. The crown is done using hard chart paper. Just take the right color paper and cut it right shape. Make sure it's not too big and not too small to place your baby's head. For the torch, take some newspapers and round fold it and then on top add a covering of same paper you used for crown. I used orange paper (little crushed) for fire on the torch. The statue of liberty dress is done by folding my husband's green shirt 🙂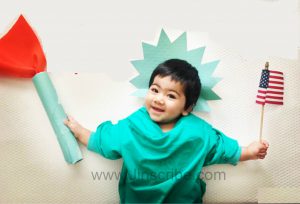 I love trying different looks for my girl and keep on looking for different and new poses to click her pictures. All of the above mentioned costumes are done by things available at home. I never bought anything specially for creating a look. DIY is fun and no matter how many efforts it take, the end results are very satisfactory.
If you like these looks and want someone to try it then share this blog or leave a comment. What have you decided for your kids Halloween costume? You just go and pick from a store or you try to do it yourself? Share your thoughts and subscribe to Jinscribe for more amazing posts.
SaveSave
SaveSave
SaveSave