It was one Sunny Saturday Morning and I thought about calling a friend so we can plan something excited for evening. When I called her she told me they are going to Oktoberfest in evening and why don't we join them there. That's the first time I heard about Oktoberfest. This event was happening at walking distance from my place and I didn't know about it (busy mom life you know). I said yes even without knowing what Oktoberfest is. May be I just wanted to go out or maybe it's the charm of a beautiful Saturday that I agreed to go to a place where I am not even sure that kids are allowed or not 🙂
So my friend called them and confirmed that kids can come and we reached there in evening. Before jumping into the details let me tell you what Oktoberfest is (yes I did my homework for it 😉
What is Oktoberfest: Oktoberfest celebrations start in September. Oktoberfest in Milford was a fundraiser for the Devon Rotary Club, Which benefits the Club's activities including scholarships, grants, and charitable giving.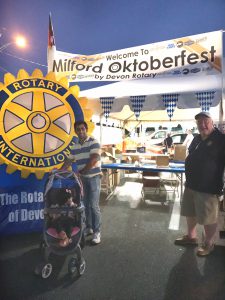 There was a $10 entree fee (which we didn't know before going there 😉 .The Germans are stereotypically known for their beer drinking capabilities.
Oktoberfest is the world's largest beer festival held annually in Munich, Germany. Many cities across the world hold Oktoberfest celebrations that are modeled after the original Munich event.
So now we know it's all about beers. Ok, not all but mostly about beer. In my city, the Oktoberfest featured 12 different craft and seasonal beers on tap. After entering it's up to you if you want to start with beer or you just want to eat shop or enjoy the music.
What to do in Oktoberfest: There was a big itenary for the complete day and those who can actually spend an entire day there had lot many things to do. But people like me who have a little girl to take care of, cannot actually spend whole day. For all the shopaholic people there were Oktoberfest merchandise(including mugs), German hats, t-shirts, and Das Boot available for purchase. There were raffle Prizes (like A Big screen LCD) to win. For all the foodies there was wide variety of foods, including German and American fare. Basically every age group have something to do and enjoy.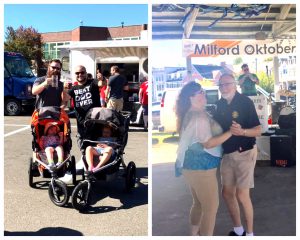 This year they included some games and contest as well. To name few of them: Costume Contest, Brat Eating Contest and Beer Stein Holding Competition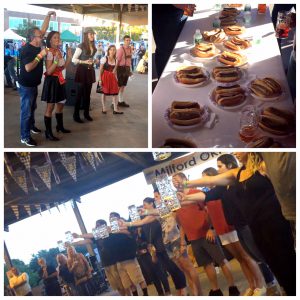 As far as entertainment factor is there you have Chris and Ronnie an authentic Oom-Pah Band and traditional German dancers.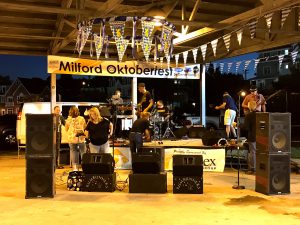 What we did In Oktoberfest:  when we reached there It was almost dark but we were not bothered because it looked like party was just started. Lalit bought one Oktoberfest Beer Mug. There was Wine too but Lalit is all into beer.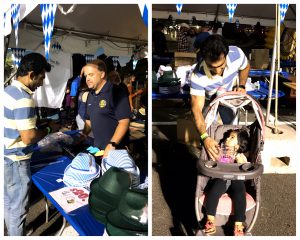 He chooses 'Oktoberfest' beer (yes there is a beer named Oktoberfest) out of so many options and we headed to meet our friends. We also met some new people there.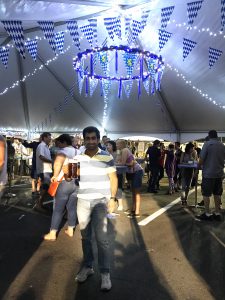 Jianna was tired of sitting in her stroller by now so she started her tantrums to get out of it. While walking she loved all the attention she got from people around her. It was like she started to enjoy the place. We bought her favorite pizza and she was all set for the evening.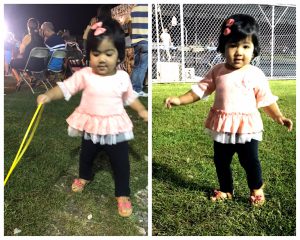 I am not a big fan of beer but I tried Oktoberfest beer from Lalit's mug and I actually liked it. I ate 'Deep Fried Oreos' for the first time and it was good.
Why it was all 'WORTH IT': We spent around 3 hours in a full day event and still I thought it was all 'Worth It 'because I got to experience something new. Even if you don't drink you get to see a new culture. We had good food, good beer, good music, good company and a good change from daily routine. What else you need on a Saturday night?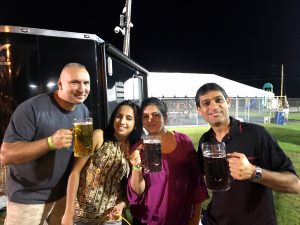 Going out with kids is challenging and sometimes we avoid going to places just because we think what our kids will do there. But from the experience of this beertastic evening at Oktoberfest I can say that we over think 🙂 . Till the time we don't take them to some place we don't know how they are going to react. So try new places, new events with your kids.
Not just Jianna, we all were too tired. I am glad that I went to Oktoberfest and if I would have not gone I would have missed out one hell of a good time.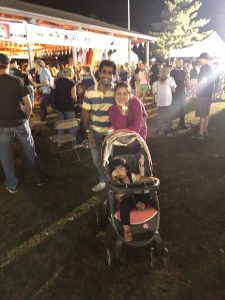 When was the last time you went somewhere which was not planned? Do you actually like going to unplanned outings or you prefer knowing in advance? Have you been to Oktoberfest or is it in your bucket list. I am sure it is in mine now (I mean the Germany one 😉 ). If you liked reading my experience of Oktoberfest leave a comment. Or you can share and subscribe too.
SaveSave
SaveSave
SaveSave
SaveSave
SaveSave
SaveSave
SaveSave