Summer is the best time to plan weekend getaways with family. But when we have a baby, we try to find places that are nearby and comfortable for family outings. Last summer we went to Poconos and Philadelphia for a 3 days trip. Our daughter was 9 months old that time.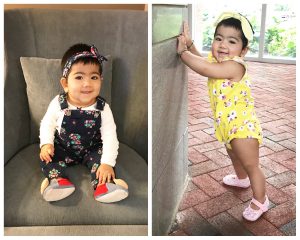 I used to think that Philadelphia is just another city and there is not much to do. But in real it's a historic and fun city with lots of family friendly places to visit. We planned this trip for only 3 days and that was enough. Philadelphia and Poconos both are amazing places and here is the list of highlights from our trip:
Poconos: We started our trip by visiting Poconos before Philadelphia .Poconos is great place for camping etc but we didn't plan to stay there. It was nice sunny day and we went to the Bushkill falls. Bushkill falls also knows as 'Niagara of Pennsylvania'. My daughter is a water baby and I was sure that she would love the fall. We reached there around 1:00 PM and the parking space was almost full. Food is not allowed in the park so make sure you eat before entering the park. There was a picnic area, snack shop, gift shop and museum near the park.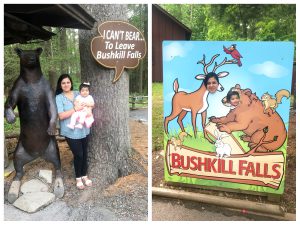 When you buy your tickets you can choose which trail you want to follow when you enter the park. Because we were carrying a baby and we are not hiking lovers, we choose the shortest trail. You can choose to take stairs or walk. It was all well maintained. Depending on how close you want to go to the falls you keep on following the trail. Water fall looked amazing and even 9 months old was enjoying it. After few hours in the park we left for Philadelphia.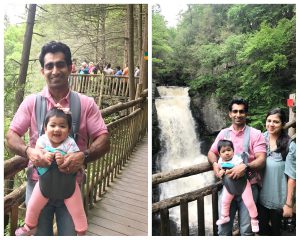 Our stay in Philadelphia: We reached Philadelphia late in the night and we had booking in 'The Windsor Suite' and it was in DOWNTOWN Philadelphia. The reason for choosing this hotel was the attached kitchen in our room and the location of hotel. Even late at night the place was so lively. We went for a walk to Penn Center and nearby restaurant. All the places we wanted to visit in the city were at walking distance and walk in Philadelphia downtown was wonderful experience.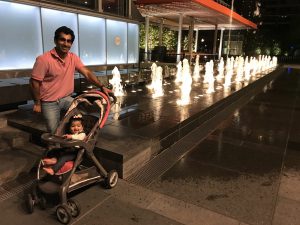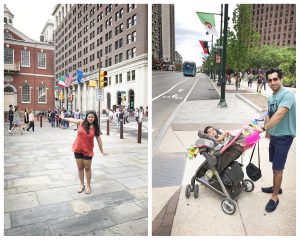 Day 1 in Philadelphia: We had breakfast in our room and got ready. Here is a list of places we visited on day one or you can say a list of things to do in Philadelphia:
Independence Hall: Even when I am not a History lover, the tour of Independence hall was good. This is the place where declaration of independence was announced. We got to know about history of America and clicked some nice pictures.2. The Liberty bell – No one should leave Philadelphia without seeing the most famous 'Liberty Bell' .It has a big crack on it and no one recorded when or why the Liberty Bell first cracked. It's a symbol of American freedom. I even got one as a souvenir for me.3. Franklin Square – This Park is named after 'Benjamin Franklin' and its very close to Liberty Bell and Independence Hall. If you visit this park make sure you checkout the list of events happening around the time of your visit.When we visited there they had this amazing Chinese fest going on. We enjoyed the Chinese fest and had snacks in the park.4. Reading Terminal Market: This market was first opened in 1892 and now there are more than 70 vendors. This place was full of people and it was tough to decide where do you want to eat. I also got some Indian food there. My daughter enjoyed the place and loved interacting with people in the market.5. Others: We were pretty tired and we just saw the love park and didn't actually spent much time there. We walked back to our hotel and explored the heart of city that's it downtown. We came back to our hotel, spent some family time and relaxed.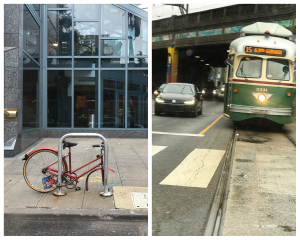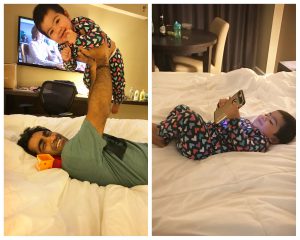 Day 2- Philadelphia Zoo: On day 2, we checked out our hotel and left for Philadelphia zoo. It is America's first zoo. They add new attraction in the zoo every year.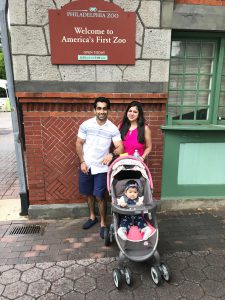 Thing that attracted us was their walk with the animals as they move around you. We got lucky and were able to see big cat crossing animal exploration trail. But it's entirely up to when the animals want to walk around.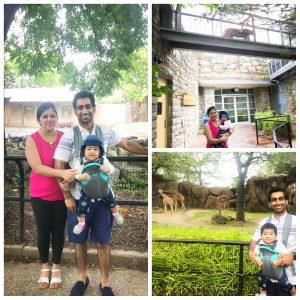 There are more places to visit other than the ones I have mentioned. Have you ever been to Philadelphia before?  What was your favorite part of the city? Share your experience in comments. Also if you like our pictures you can leave a comment for that too 🙂