Mykonos is a photogenic island in Greece and also known as party capital of Greece. You can say that Mykonos is one of Greece's most famous Islands. From open air restaurants to late night pubs, beach clubs to hookah bars it has everything. Most of the places are open till midnight and some even goes up to 4 AM.  But there is lot more about Mykonos than just partying. It's a very small and beautiful Island. You can explore Mykonos in 2 days easily, but we stayed there for 3 nights and made sure we relax and party as much as we could. Look at the Video at bottom of page for some highlights from our Mykonos trip.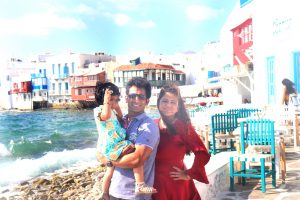 The culture, people and the food will amaze you. When I talk about food I can say I got to taste some amazing flavors and for a vegetarian there were plenty of options.
Not just the food, we loved everything about Mykonos and it became the best part of Our Greece vacation. We Celebrated Our Daughter's 2nd birthday in Mykonos and it was just like a dream location for this special day.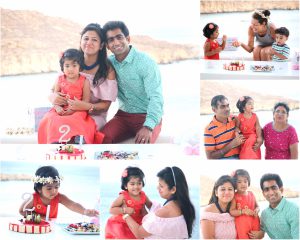 Travel to Mykonos: We took a ferry from Santorini to Mykonos. It was an express ferry so actual travel time was just over 2 hours which was great. We booked platinum seats so we had reclining seats, separate sitting areas, private bar and waiter for table service.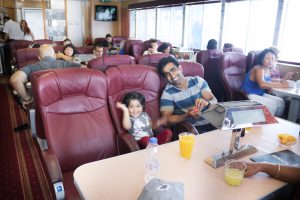 That travel finished in a heartbeat and was great experience. There was a cab waiting for us at Mykonos port so it was smooth and easy overall commute.
Accommodation : We stayed in Casa Del Mar Mykonos Seaside Resort . That place was just so amazing that it made our Greece vacation so memorable. We got 3 bedroom Villa with breathtaking ocean view.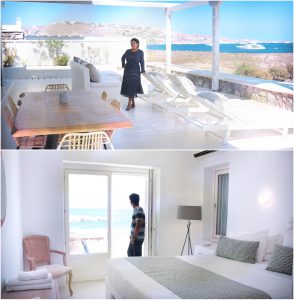 The resort has amazing restaurant overlooking water, private beach, swimming pool, spa and fitness center. Our villa had full kitchen, attached washrooms, huge living room and dining area. That resort was the highlight of our Mykonos trip.
Places we visited in Mykonos:
Mykonos Town: It is in the center of Mykonos and painted blue and white perfectly. All streets looks the same. It has many restaurants and shopping places. Perfect place to get the pictures clicked but crowded at the same time. We ended up here next morning as well to get some shots in the solitude.
Mykonos Wind Mills: Nearby that town, is the very famous place known as "Windmill of Mykonos". It has very old and big wind mills. Don't know the historical significance of that but a perfect spot to spend some time and get some pictures clicked as it overlook the sea as well.
Little Venice: If you have been to Venice or seen it in movies, then you should know what I am talking about. It is also part of town but surrounded by water all around. It has many high end bars and dance clubs and this place is totally different at night. 
Sameli Bar: This is an amazing dance club in little Venice and we ended up here at midnight and trust me when I say it didn't feel like midnight. It was crowded and all the tables were full. We had to reserve this place at that time of the night to get in there. They had some good selections of cocktails and if you are into hookah than this is the place for you. It has open air sitting area where you can feel the cool breeze, some occasional sprinkles of water and ocean sound. It was amazing.
Paradise Beach – This Island is full of beaches so you have to decide, where you want to go. We wanted to do some water sports and that's why we chose this beach. It was a little far from our resort but we had the rental, so distance won't matter. They had all kind of water sports available. As usual, someone has to take care of Jianna, I didn't do any but rest of the crew get the fullest of it. It is not difficult to take care of Jianna in water, the difficult part is to get her out of water.
Hippie Fish – It is another fine dining restaurant and serve amazing food. Like any other restaurant, it had the outdoor seating, seating next to water and indoor restaurant. For a change, we sat inside had a great family time.
Tropicana Beach: I have never seen a place like that. This place opens at 4 PM till 5:00 AM in the morning. This is a beach dance bar. It's like you enter in a place with nice DJ next to an open bar, move a little further and beach chairs and stool followed by water and people dancing in it. It was party on the beach. Crowd was amazing and everyone was busy in their own life. Seems like only motto of that place was that "Live as if there is no tomorrow". We spend good few hours there and came back around 1 AM.
Our next destination was Athens and we choose ferry to travel to Athens from Mykonos. This trip was amazing in all ways. We got to spend some quality time with family and we made memories for life. If you liked reading about our trip or you have any questions for planning a trip to Mykonos please leave a comment below.