Santorini is in everyone's list if you are travelling to Greece. For me, it was a little different. I wanted to go to Santorini and that's why we planned a family trip to Greece. It can take weeks to explore all the islands of Greece. So we kept a fixed itinerary and made Santorini as our first destination.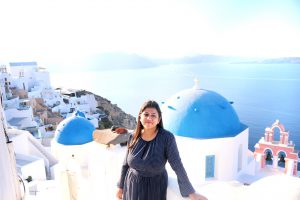 We stayed there for 3 nights and visited as many places as we could. We went with a toddler so had to miss few places based on her routine. Here is a list of what we did in Greece .
Accommodation: We stayed in Fertimo, Santorini. We booked a private 2 bedroom villa, with full kitchen (except microwave), dining room, deck and private rooftop jacuzzi.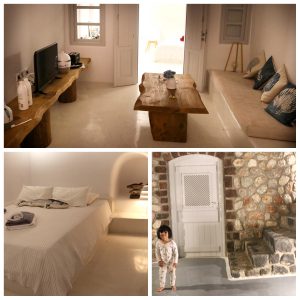 Everything about the stay was good except the part where you have to walk 3-4 sets of stairs to reach to your villa after parking your vehicle. The location was not very happening, but it was very close to Fira and also in centre of Santorini.
My most favorite part of our stay in Santorini was the private Jacuzzi. My water baby spent hours in that and it was so relaxing for us too. The view from the Jacuzzi was like cherry on the cake.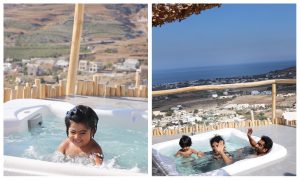 Places we visited:
Fira: Fira is capital of Santorini. Its full of shops and restaurants. I loved buying souvenirs from Fira. In Fira you can spend entire day shopping and doing some activities.There are amazing jewelry shops for jewelry lovers.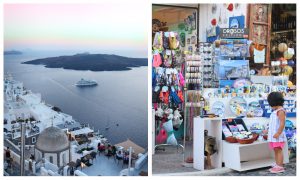 We were able to watch locals dancing and singing and that gave me amazing vibes and feel of being on a greek island. Two of my favourite clicks from Fira are here in the next picture.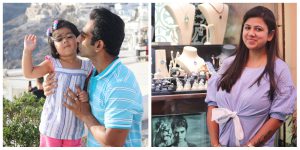 We stayed there till night and explored one open air restaurant. The view was just breathtaking. Right beside the sea, on hill it was a totally different experience. My daughter was asleep by then and I got some me time to enjoy the wind and wine. See this picture below: here we captured the night view of Fira and I am sitting in one of the restaurant in the pic.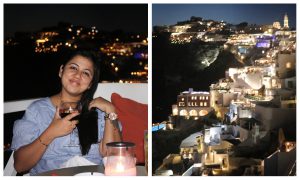 Winery (Santorini Vines): We choose to visit this winery because of its amazing reviews and the location. They serve you 9 different types of wines and the scenic beauty is like a dream (look at this picture).

My favorite was the rose wine and my little one just drank lemon water (considering its wine) in a wine glass. It's a good place to add to your list if you are travelling with kids. You get to relax and enjoy the views.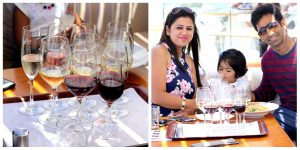 Red Beach: After the winery, we headed to red beach. This is the most famous beach in santorini. The backdrop is stunning. It's called red beach because of the color of sand. After parking your vehicle, you have to walk for around 20-25 mins to reach to the beach. We skipped going all the way to the water because we were planning to go to black beach after this and we wanted to get into water only once.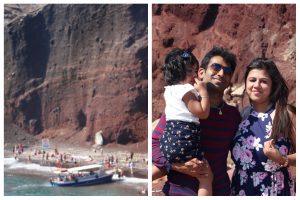 Black Beach – Perissa or The Black Beach, is called black beach because of the black sand due to black-lava. This beach is not very crowded like red beach and you don't have to walk too much after parking your vehicle. It's a relaxing and quite beach.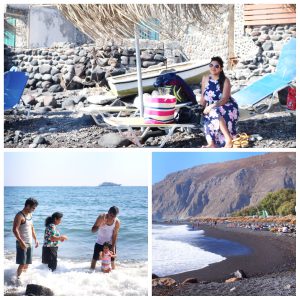 Oia – Oia is the heart of Santorini (atleast I found it that way). If I will travel to Santorini again, I will surely stay in Oia. Beautiful buildings, amazing shopping and the best sunset view ever. We drove to Oia from Fira by renting a car, but people go for tracking also. There is a famous fira-oia trail. When we reach Oia it was very crowded. But luckily we found a perfect spot for watching sunset.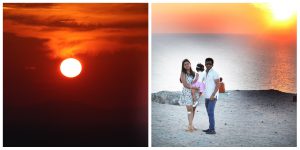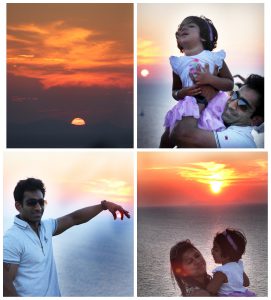 After the sunset people start moving around and you can see how happening that place is. Small roads, stairs and amazing scenes all around.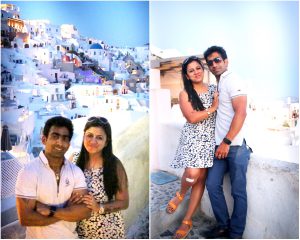 After Fira, I found Oia have amazing souvenir shops. Cats are quite common in Santorini. See this picture below where cat welcomes you in the shops 🙂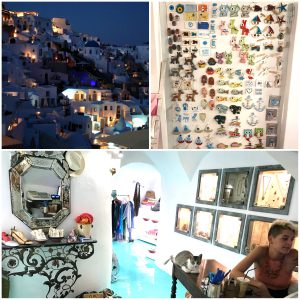 As I mentioned Oia is very crowded in the evening, so getting those perfect pictures is quite a challenge at that time. So the next day we went back to Oia in the morning to get our family pictures. It was worth the effort.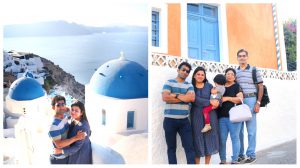 Good bye Santorini : Our next destination was Mykonos and we left for the port to board our ferry. There are proper waiting areas for passengers and travel through ferry is quite comfortable. Wait for our next blog about our visit to Mykonos and highlights of travelling from a ferry.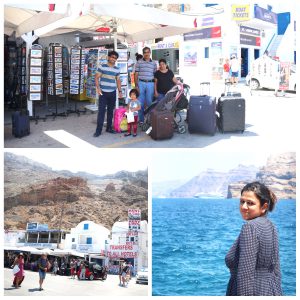 Don't forget to watch this beautiful video of Santorini, Greece and mention your thoughts in comments below.
SaveSave
SaveSave
SaveSave
SaveSave
SaveSave
SaveSave
SaveSave
SaveSave
SaveSave
SaveSave
SaveSave
SaveSave
SaveSave
SaveSave
SaveSave
SaveSave
SaveSave
SaveSave