Visiting New Hampshire in Fall Should be on everyone's bucket list so that you can fully experience breathtaking views of mountains splashed with multiple colors, crisp air and Drive on Kanc Highway. If you haven't visited New Hampshire then this fall season is the perfect time to plan your first trip to New Hampshire and cherish the beauty of nature.
It was October 2016 and Jianna was 2 months old when we planned our first road trip with her. My In-laws came to visit us and it was their first visit to US so it was a family road trip. Being parents is a tiring job and short trips like this help you to regenerate that energy and give you a change from daily routine. When we were making this plan, I was worried that how a 2 month old will travel for 300 miles. Is it too soon for us to plan a road trip with little baby? I guess being a mom makes you think about all this stuff. Today I am sharing my experience of first road trip with a baby. It was a short trip that is why we didn't prepare big itinerary. The purpose was to enjoy the fall beauty and spend some quality time with your family.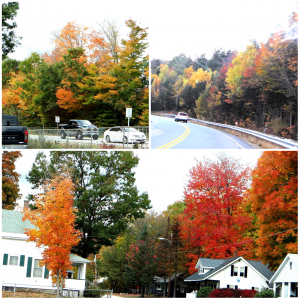 Planning/Packing for the trip: When it's your first time travel with a baby, packing is an important factor. I didn't want to miss anything important so I made a list of all important stuff for Jianna and I packed everything according to it. As we were travelling by our car so I kept some extra things too. I love having things handy that's why packing and unpacking extra things does not bother me. I am not a morning person so we started our journey around 11 AM. It was also planned by keeping Jianna's nap time in mind so that she spends most of time sleeping.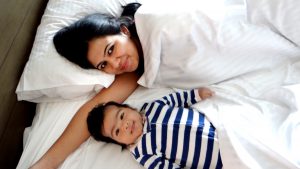 On the Way to New Hampshire: The beauty of a road trip is that you can pull over and get out whenever you want. After two hours of drive, we decided to take a break and stopped at a service plaza. It was good for Jianna too because she was able to lay down in her bassinet leaving the car seat for some time. Being a vegetarian, I don't see too many options for me to eat but I am habitual of enjoying with what's available. Everyone ordered their food and we clicked some pictures .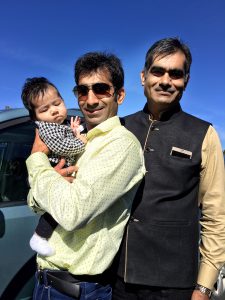 The service plazas on the way to New Hampshire were amazing. Clean washrooms (a must have for changing baby diapers), nice place to sit, food and souvenir buying options. We started again after 30 min and continued our journey. After some time, we could actually see the fall colors around us. Huge trees, colored leaves, beautiful mountains and cleared sky added more to our drive and after few hours we reached our resort.
Our stay in New Hampshire: when it comes to accommodation, I prefer resorts over hotels or Inns. We had 1 bedroom suite that included full kitchen and personal Patio facing mountains with scenic beauty. It's not like we were planning to cook ourselves but having a kitchen in your room is helpful when you have grandparents and a little baby with you. My In-laws are big time tea lovers and after so much travelling they wanted tea like someone wants air to breath (haha I actually feel it this way because tea lover can live without air but not without tea). We brought our ingredients for tea from home and first thing they did was to make tea when we checked into our resort. By this time Jianna was done sleeping and all set to enjoy with mommy daddy and grandpa grandma. We all relaxed for some time and enjoyed the patio.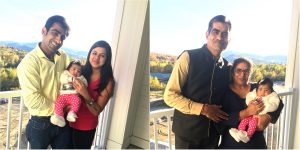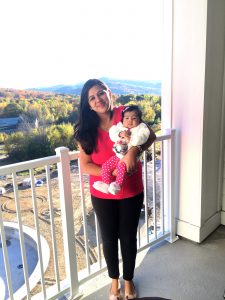 Drive on Kanc Highway: Though you don't have to travel all the way into the Mountains to enjoy the fall beauty, it can be seen anywhere. Kancamagus Highway is a 34.5-mile scenic drive in Northern New Hampshire and well known as one of the best Fall Foliage viewing areas in the country. They have stopping points on the way. I saw so many people with their tripods. This Highway is famous for capturing best shots of New Hampshire Mountains.
New Hampshire's scenic beauty
in fall season is the most beautiful thing you can see.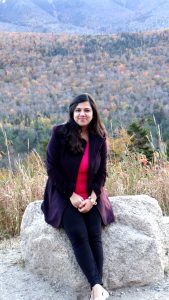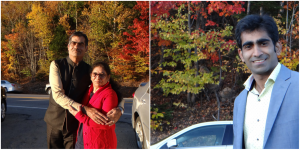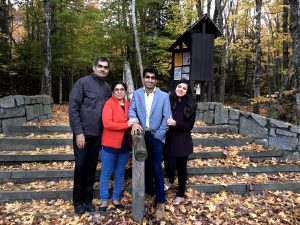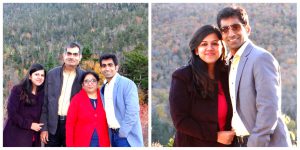 We stopped multiple times to enjoy the view and get some photographs clicked with beautiful backdrops. Mom dad enjoyed the drive and they loved the place. Soon after half an hour of drive, we touched an elevation of around 3000 ft. and damn it started getting cold. So we decided to go back to resort and relax.
Some 'We' Time: After so much travel mom dad wanted to stay in room and ordered their food. They wanted to spend as much time as possible with Jianna so they kept her with them and asked us to go. Lalit and I went to one nice Italian restaurant in our resort.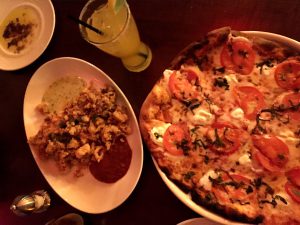 It reminded me of those initial dates when you just met the love of your life and you don't have any worries in life. Jianna was in safe hands and we knew three of them must be having their best time. Wine, music and nice food in lovely ambience. What else you need for a break from your daily life? We were enjoying our we time and in some time mom called us that Jianna is crying and that call woke up the mother inside me again so I left Lalit alone in the restaurant (he was waiting for the check )and ran towards my room. Lalit also came back and then five of us sat together and talked for some time. Recalling old days with parents is so much fun.
Next Morning: Next day it was time to pack our bags and travel back home. Lalit being a morning person woke up early and went straight to patio to enjoy cool breeze and vibrant colors.
We visited one local market and as per my travel policy, I bought one magnet as a souvenir for the place.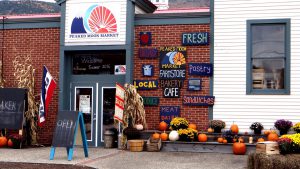 Overall it was a short and sweet experience. Mom dad loved the place. If you have never seen New Hampshire in fall you must plan a visit. I am sure you won't be disappointed because fall in New Hampshire is truly one magical time of year. The beauty all around was mesmerizing. I can visit that place every year.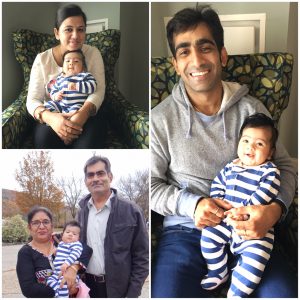 How did you plan your first road trip with a baby? How was your experience? I would love to hear your story in comments below. If you like reading my experience, subscribe to our page.
SaveSave
SaveSave
SaveSave
SaveSave
SaveSave
SaveSave
SaveSave
SaveSave
SaveSave
SaveSave
SaveSave
SaveSave
SaveSave
SaveSave
SaveSave
SaveSave
SaveSave
SaveSave
SaveSave
SaveSave
SaveSave
SaveSave