Beach front luxury villas in Mykonos – this is a perfect description for Casa Del Mar. Staying at Casa Del Mar was the highlight of our trip to Greece. We booked a family villa with 3 bedrooms where the master bedroom's door opens onto the Aegean Sea which provides the perfect soundtrack during the stay. The day and night views are beautiful.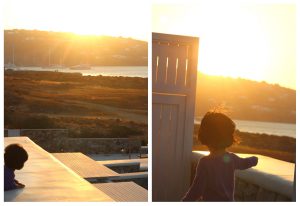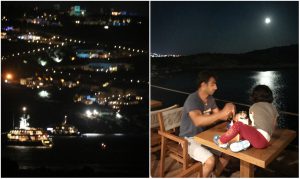 The Villa: There are around 7-8 types of rooms/villas to choose from and we stayed in Family-and-Friends-Seaside-Villa. They serve this colorful and tasty welcome tray for their guests. My baby surely loved eating this colorful tray 🙂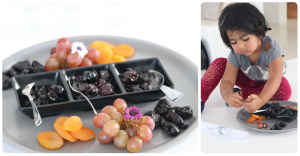 The Family and Friends Seaside Villa at Casa del Mar was the ultimate experience for my family. It can accommodate up to six guests in three bedrooms.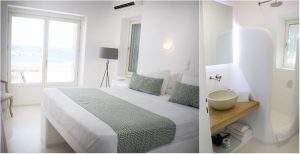 Everyone can find space to relax and unwind in the enormous living room or feast from the fully equipped kitchen.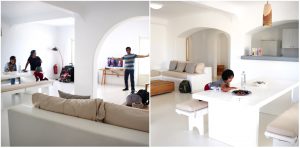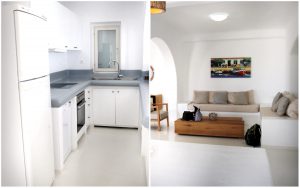 Every villa at Casa Del Mar is accompanied with Wi-Fi, Flat-Screen LED TVs, Kitchen (no microwave) and Porch. They provide you a cell phone to contact the staff. You can carry this phone with you anywhere you want.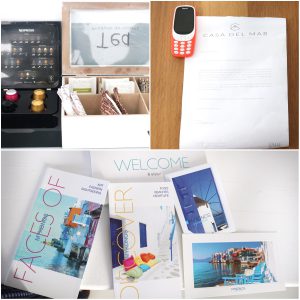 These villas offer spacious sitting on the balcony and terrace where we found the perfect place to relax with a bottle of wine and my favorite cake.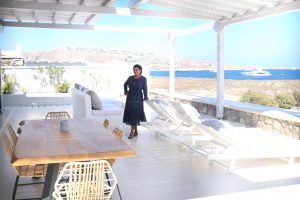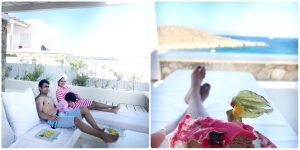 The view was amazing. We celebrated our daughter's birthday in the balcony and It's the most memorable moment for our trip.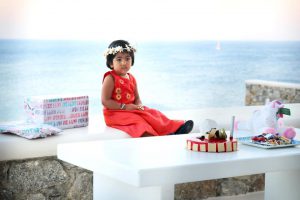 Highlights: This villa is situated next to the beach of Glifadi and it's a short trip to Mykonos Town from here. Some more highlights of Casa Del mar includes their private beach and sea side restaurant.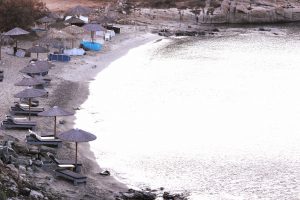 Casa Del Mar have common Gym, common swimming pool, massage facilities and they even provided beach toys for my kiddo.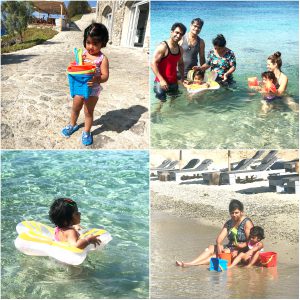 Staff: The staff was amazing. You will feel welcomed and taken care of all the time. Casa Del Mar offers incredible services to guests. They are very attentive to everyone that checks in to their villas. Casa del Mar staff helps you to make restaurant, cab or club bookings.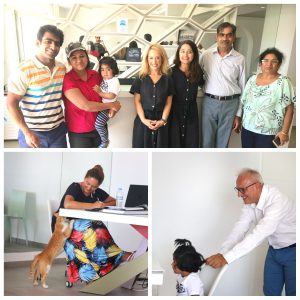 Not just the staff but the other guests were also fun to be with. My daughter made a friend during out stay and we got a little guest for her birthday party.
Food: Being a vegetarian, I was not hoping for many food options. But their Menu had so much for me that I feel it was the best food I ate in Mykonos. Spinach Pie was my favorite.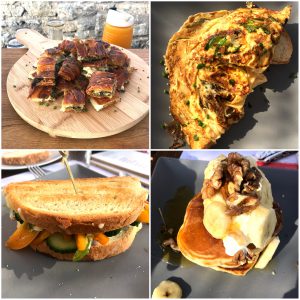 Absolutely loved our stay at Casa Del Mar for its amazing views and services. We felt very special by the way we were treated.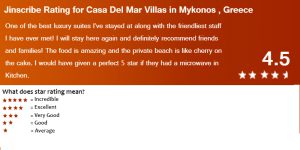 SaveSave
SaveSave