With babies days are longer and years are shorter. You are still learning about parenting and your baby turns one, just like that. It's a bittersweet feeling to watch your little munchkin turning one. Not just mom dad, but everyone in the family starts preparing for this special day in advance. While doing all the preparations, it's a good idea to keep one day for your baby's photoshoot. After all turning one is a big milestone.
I am not a professional photographer. But I experienced that with right camera, backdrop and lighting conditions it's not tough to take professional looking photographs. I am sharing how I did my baby's first birthday photoshoot and you can use this idea not just for first birthday but for any special occasion.
Choose the perfect Backdrop/Location: It's completely upto you that where do you want to do the photo shoot. It can be done at home or somewhere out. With a kid you just have to make sure that they are comfortable with the place. When you choose some outdoor location then check out the weather condition for the place in advance.
I did Jianna's photo shoot at a State Park. Choosing State park has its benefits like you can click with greenery or with some wooden boundaries (see the picture below), trees, small roads inside parks and many other small things. At outside locations you get natural backdrops which is a big benefit over doing the photo shoot at home.
If you do it at home then you have to create a photo booth kind of setup and you need to explicitly choose some backdrops.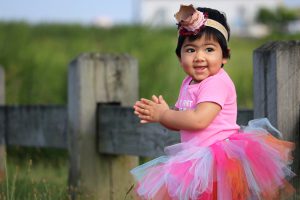 Add some Props: Props are very helpful for photoshoots. It makes the picture little different from a random click. Also Props distract your kid and keeps them busy. Props can be bought or you can make them at home. I used few different props: one of Jianna's favorite teddy, a 'Happy Birthday' balloon and a sign of '1'. If you choose to do your photoshoot outdoors then keep something on which kids can sit. Like I kept one chair and used that as a prop too.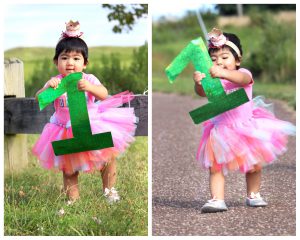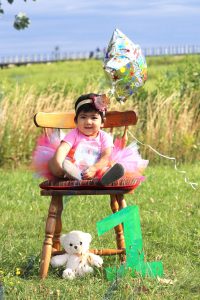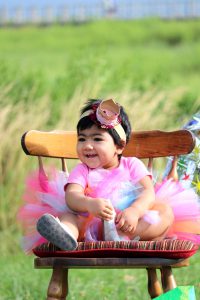 Dressing Up: I made one tutu skirt for Jianna which she wore with a matching onesie that says 'My First Birthday'. Making tutu at home was very easy and fun. It took me around 3 hours (my first attempt ever) for completing this skirt. For accessories I didn't do anything except the crown. The crown here is also an attempt to DIY and it also took 2-3 hours for getting it done. I used the same tutu skirt for her cake smash photo shoot too. Photo shoot is a fun activity but it's really tiring too. So less is always more with them.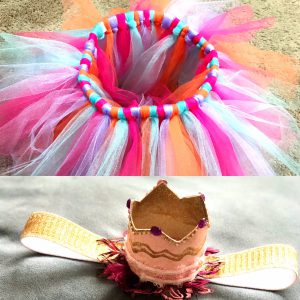 Make sure you have some help: When you are behind the camera you might need someone for helping you. You will need help for keeping your baby at the right spot, props needs to be placed at right place at right time. Jianna's dad accompanied us for her photo shoot. When Jianna was running here and there, he brought her back to where I wanted to click the pics. Sharing few behind the scene pics.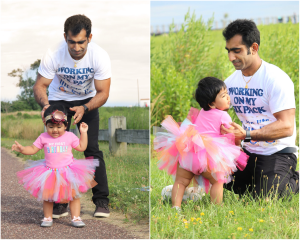 Editing makes a difference: I took around 40-50 photographs but all of them didn't turn out great. Little Editing can make big difference. As I mentioned earlier, I am not a professional photographer but I do know some editing. Pixlr is a free photo editing tool I used for editing the pics. It's very easy to use and has all basic options for photo editing. Remember excess of everything is bad so don't go crazy with the editing. Just brighten them up a bit and add a bit of contrast to give them a more polished look. See Below some of my edited pics.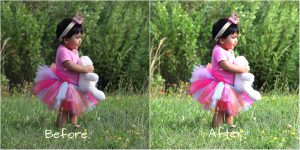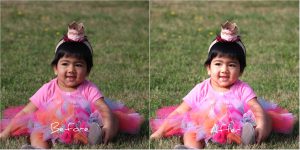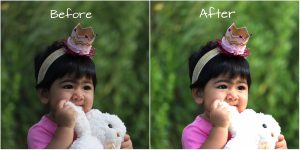 I was very much satisfied with how the photographs turned out. You can be more creative and do lots of experiment with props, dresses and backdrops.
So, what do you think? Are you little inspired to try it and be your baby's photographer? Or you still prefer to go for some professional help? Let me know in the comments below and subscribe to Jisncribe to receive more amazing tips/ideas and stories.
SaveSave
SaveSave
SaveSave
SaveSave
SaveSave
SaveSave
SaveSaveSaveSave
SaveSave
SaveSave
SaveSave
SaveSave
SaveSave
SaveSave
SaveSave
SaveSave
SaveSave
SaveSave
SaveSave