Cake smash photo shoot is in trend these days. It involves a baby smashing up a beautiful cake on his/her first bithday. It's simply a way to celebrate all those amazing milestones that your baby completed in the first year. I know, we celebrate their birthday but this has its own charm. Think in a way that now you are a grown up and you will be asked to smash a cake: will you be able to do it with all your heart? Will you be able to do it like you would have done it when you were ONE? No Right? So cake smash is a good idea for enjoying your baby's free spirited smashing power when he/she is turning one 🙂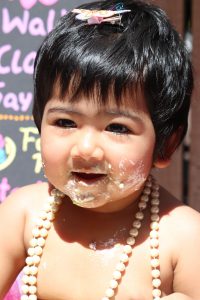 HOW I PLANNED CAKE SMASH PHOTO SHOOT:
Many professional photographers do kids cake smash photo shoots. For Jianna we have already done professional photo shoots twice, so this one I decided to myself. I love DIY (Do It Yourself) stuff. It's fun to do all the planning and then shopping for turning your thoughts into reality. When Jianna was 11 months old , I started my research for what kind of costume is good for cake smash, what kind of cake we need , which location I can choose , decoration, accessories etc etc. Once I decided everything. I started working on getting things done.
CAKE and CAKE TOPPER: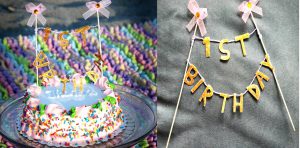 I ordered a simple but colorful cake. Cake didn't have any fillings in it. I chose pink for flowers so that it can go with the ribbons in my cake topper which I made myself. Cake topper is simply made up of:
1. Wooden sticks to tie threads and ribbon and it will go inside the cake easily. You can use very thin straw too.
2. Glitter paper for cutting of the letters (if you don't have glitter paper you can use sparkly tubes over any paper)
3. Thread (little thick) for sticking the letters. You can use thin ribbon too.
4. Ribbons at top with a stone over it. You can add flowers, you can cut a paper into some shape and stick over it. All depends on how you want it to look. Just give your creativity a chance.
SETUP AND LOCATION: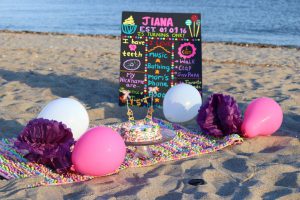 I did Jianna's cake smash on a beach. You can do it at your home too but I wanted to go somewhere out. To make the setup colorful I choose a colorful rug on which Jianna can sit comfortably. Balloons and Pompoms also added more colors. To make this setup more personalized, I decided to make a birthday board for her.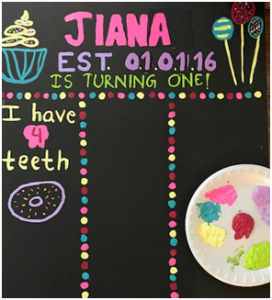 Usually people use chalkboards for this, but I bought a black foam board. I used paint colors for writing because it's brighter than chalk.
Baby Dress and Accessories: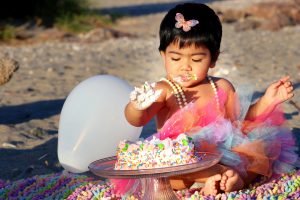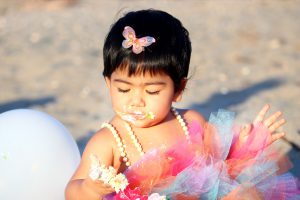 She wore a tutu skirt which I made for her first birthday photoshoot  .On top, it's just one big pearl mala which I folded to make it look little heavy. Except this it's just her butterfly hairpin matching to her colorful tutu skirt. It's good to dress baby in comfortable and easy to remove stuff because cake smash is a messy event. After all the fun you have to remember that you need to clean your baby.
Finally it's show time: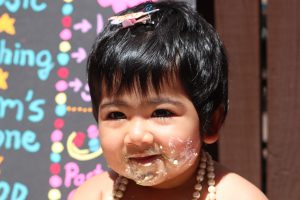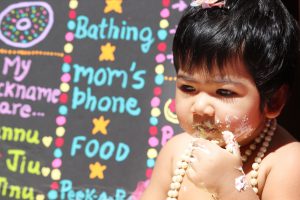 Now it's time to put her in front of cake. I was ready with my camera but Jianna had no interest
in cake. She was looking at everything but was not doing anything. She is one distracted baby. I
realized she is getting distracted by people around her. So I asked Lalit to put her hand on the
cake. Once he did it, Jianna was all into it. She started slowly and then she was in full form. She
didn't eat much but completely smashed the cake.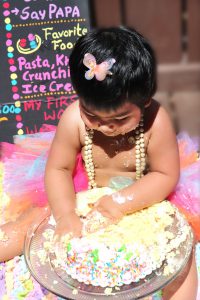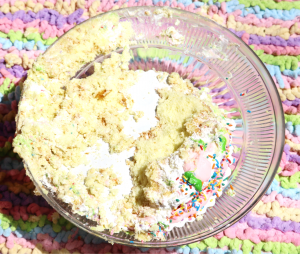 I was so happy once it is done and the joy of looking at these photographs is forever. There are so many moments we want to capture in our child's life. Considering cake smash for baby's first birthday can be a good idea for both parents and child. It can add a difference to the big celebration.
What do you think of the idea of doing cake smash for your kid? Share your feedback in comments below and subscribe to our blog for more amazing ideas in future.
SaveSave