Memories from 2018
2018 is almost over and some of us already have plans for next year and some are still not ready to believe that another year passed by. While I am still figuring out how I am going to celebrate the new years eve, I thought of writing down the highlights of year 2018 for me. Like any other year, this one also included some trips, meeting new people, losing touch with some friends, buying something exciting and all the other things that a common man can expect in life. But for me, 2018 was more than just another year. I saw many ups and downs and at the end its all good. I got some things for which I was waiting from long time and lost few too. Sharing some of the memories of 2018:
FAMILY:
Welcomed 2 new members in my family (good memory): In January 2018, we welcomed 2 little boys in our family. My best friend and my sister-in-law gave birth to baby boys in January. At that time I was in India so I was able to meet both of them. Don't know why but from the time I became a mom, whenever I hold a new born ,the whole story of me holding my daughter in my arms for the first time starts playing in my head 😊 
My family in India met my daughter first time (good memories): My daughter was born in US, so my family missed all her childhood fun. Last year they were all together and I still gets a big smile on my face when I look at those videos and pictures. 
HEALTH:
Came to know how healthy I am (bad memory): January 2018 started with my reports of Dengue and Kidney+Gallbladder stones. Before my pregnancy in 2016, I never visited doctor even for a regular checkup. But this year started with a lot of prescriptions, bed rest and too much care from my family. That time I realized, the biggest blessing in life is to live healthy life. And ignoring your health for any damn reason, is not worth it.
Managed Weight(ok ok memory): From years (I don't know how many) I am making resolutions about loosing weight and staying fit. I even signed up for an entire year of gym membership (paid in advance). But as always, I end up sitting at home and giving reasons to myself for not doing anything about my health. Weight wise I am exactly at same point where I was in 2017 so I am ok for not gaining more weight, but I am disappointed for wasting one whole year without doing anything. 
PLACES WE VISITED(all are best memories of 2018):
Greece (Europe): My first trip to any European country and that too on occasion of my daughter's birthday. Greece was in my bucket list for years but because of one reason or another we were not able to execute it. Thanks to my husband for planning the best trip of my life this year.This indeed was one of the best memory of 2018. 
SHIRDI (India): Shirdi is one of my fav places in India and I wanted to go there with my daughter. Thanks to new airport in shirdi that the travel is easier than it used to be. 
KERALA (INDIA): India is full of amazing tourist places and Kerala is one of them. We visited Munnar, Poovar and Kanyakumari in February 2018. 
New Hampshire (USA): A perfect weekend getaway with friends and Family in Fall. Still remember the early morning breakfast in chilled weather and late-night card games. 
Atlantic City (USA): Birthday surprise planned by husband in Atlantic city. One weekend full of delicious vegetarian food, shopping in best outlets and some We time. 
FRIENDS:
Got to meet my friends after years in India(too good memory): When you move to another country you miss friends more than family. Even when you get a new friend, you keep searching for your best friend's traits in them. During my visit to India I got to meet my best friends after years and I was so glad that they are still the same. 
Met New Friends who are like Family(the best memories): Friends eventually becomes our chosen family, specially when you are in a new country. In 2018, I met few strangers who are an integral part of my life now. I wish this friendship keeps on growing. 
Lost touch with few friends(ok ok memory): Last year I had people in my life who were caring and were available when we need them. We used to have fun, share stories but we were not best of the friends. By end of this year I meet them occasionally and just have the hi hello kind of conversations. Don't know when and why this gap started to build up but I guess that's what life is all about.
Things I loved and worked for:
Got the driving License(best memory): In 2018 I achieved something that I never thought I would be able to get – My driving license! It may sound funny to you but only I know how much I was afraid of even sitting on the driving seat. I failed my driving test 2 times and I lost confidence that I will ever get it. But you have to keep trying for what you really want in life right?
And yes as a reward I got this beauty gifted from my husband.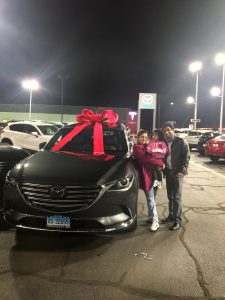 Started My Career Again(good memory): After taking a break from being a software engineer for around 8 years, I started working as a freelancer ColdFusion developer again. I changed my status from a mom to working mom in 2018.
Learnt playing cards (happy memory): I never played anything in cards except our homemade 'patte pe patta' game. This year I learnt Teen Patti, Rammi and UNO. I am not a pro yet and still learning but at least I can understand what people around me are doing for hours. 
Us(My daughter, me and husband):
My world around these two(best of all): With my husband and daughter we are making memories almost daily. So its tough to add anything specific here. But I still added this point to express that life is special because of them. Even a trip to Starbucks seems special when I fight with my husband for his cup of coffee after finishing mine. Every morning when my daughter wakes up next to me I feel this day is going to be amazing (that's another story that after morning how she turns the whole house up and down). I am so glad to spend all the good and bad memories with these two and I wish for the same for my entire life. 
I am excited for the new year and hoping for good health and happy life for all of you. Do share your favorite memory from 2018 in comments. Stay fit and stay happy and keep reading !