When we talk about Traditional Indian Dresses, there is not just one style that comes in mind. India is known for diversity and this can be seen in people's attire for different parts of country. Festive season is just started in India and the whole country is full of life at this time.  It's been 3 years that I am in US but the excitement of celebrating these festivals is the same. Except the authentic Indian food and rituals of festivals, one thing that I love about celebrating Indian festivals is the traditional Indian Dresses. Jianna is my little model. I love dressing her and trying different styles on her. Today, I am sharing my favorite Indian Traditional looks which I choose for my baby:
Look #1 –Kurtis: Kurtis can be paired with jeans, leggings or salwars. For entire ethnic look I love pairing it with salwar for my little girl. This Kurti is sent by her grandma from India. For every age, this is the most preferred Indian attire worn in India these days. Even in US I can find some nice options which works as Kurtis. Some of my favorite places to look for something which can be worn as Kurti are : Old navy, TJ maxx and H&M. Fun part of wearing Kurtis is it doesn't need any duppata and still looks fabulous and ethnic.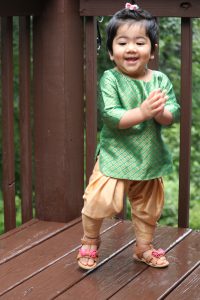 Look#2 -Suits: Isn't she beautiful 🙂 Dressed in the most common and famous Indian dress. Salwar Suit is my all time favorite. Jianna is too small to handle the dupatta all the time but she managed for some time atleast. Salwar suit is perfect for any occasion where you wanna wear ethnic clothes.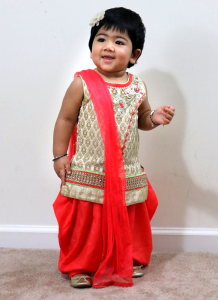 Look#3 -Chaniya choli: It's a long skirt worn with blouse. This is mainly worn on Garba and I added a little flower to accessorize the dress. It's perfect for little girls because it's very light weight and made of cotton. The sound of ghunghroo (liitle bells) on the dress is an add on. You can hear your girl moving all around 🙂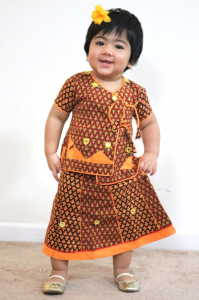 Look#4 – Lehnga: When you look for party wear ethnic options, lehnga is the first choice. The fashion trends for lehnga choli changes with seasons. It's the most experimental dress. It could be short choli, long choli, with duppata or without duppata. Thousand of option with just one dress. One of my friends sent this beautiful Lehnga for Jianna when she was born. Now it's of perfect fitting and I feel like it's made especially for Jianna.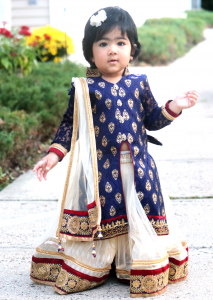 Look#5 – Flaring Palazzo: Palazzos are redefining the definition of ethnic wear in India. Its casual, its party wear and so much more. You can pair it with Kurtis or tops. I got this white palazzo for Holi this year. Added the duppata just for making it more ethnic J Palazzos are available in different widths of flares. For Jianna I choose minimum very less flare. The whole look is a fusion of Indian and western style.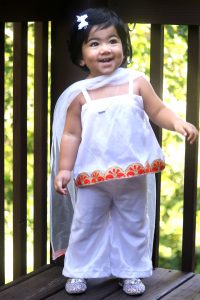 We are lucky that everything is available globally these days and we can enjoy wearing our favorite styles anywhere is the world. We Indians are truly blessed with the variety and fashion trends of our wardrobe. How to you style your babies for festivals? Do you create something unique or you go with the already available styles? Share your ethnic style favorites in comments below and subscribe for more posts.
SaveSave
SaveSave
SaveSave